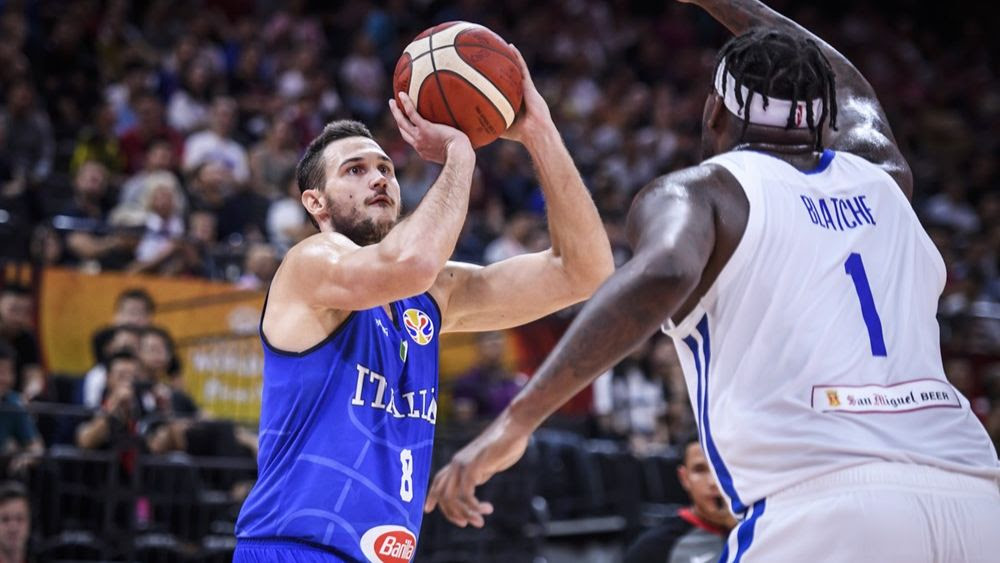 MAY 31, 2022 LONDON (United Kingdom)/ MIES (Switzerland)/ MILAN (Italy) - The National Basketball Association (NBA), the International Basketball Federation (FIBA) and the Italian Basketball Federation (FIP) today announced that Basketball Without Borders (BWB) Europe will be held at Sport Village Assago and the Bocconi Sport Center in Milan, Italy from June 1 to 4.
The 19th BWB Europe camp will mark the first time the NBA and FIBA's global basketball development and community outreach program will be held in Europe since 2019 in Latvia and first time in Italy since 2014 in Rome.
BWB Europe 2022 will bring together 62 of the top high-school age boys and girls from 24 countries across Europe to learn directly from current and former NBA, WNBA and FIBA players, legends and coaches and compete alongside their peers from across the region. The campers and coaches will also take part in life skills, leadership development and community service programming.
The campers will be coached by NBA players Danilo Gallinari (Atlanta Hawks; Italy; BWB Europe 2003), Terance Mann (LA Clippers; U.S.) and Kemba Walker (New York Knicks).
Memphis Grizzlies head coach Taylor Jenkins (U.S.), NBA assistant coaches David Adelman (Nuggets; U.S.), Johnnie Bryant (New York Knicks; U.S.) and Edniesha Curry (Portland Trail Blazers; U.S.), former WNBA player Raffaella Masciadri (Italy) and Italy Women's National Team captain and Virtus Bologna forward Sabrina Cinili (Italy) will serve as BWB Europe coaches.
Patrick Hunt (President of the World Association of Basketball Coaches; Australia) and Marin Sedlacek (Philadelphia 76ers former international scout; Serbia) will serve as camp directors, while Jason Biles (Houston Rockets; U.S.) will serve as the camp's athletic trainer.
Players and coaches will lead the campers through a variety of activities, including movement efficiency drills, offensive and defensive skill stations, three-point contests, 5-on-5 games, and life skills and leadership development sessions. A ceremony on the final day of the camp will award the BWB Europe 2022 MVP, Defensive MVP, Three-Point Champion and the Patrick Baumann Sportsmanship Award to the boys and girls who distinguish themselves on the court and as leaders.
A record 41 former BWB campers were among the record 121 international players on opening-night NBA rosters for the 2021-22 season. Former BWB Europe campers currently in the NBA and WNBA include Gallinari, Deni Avdija (Wizards; Israel; BWB Europe 2018 and BWB Global 2019), Killian Hayes (Detroit Pistons, France; BWB Europe 2018 and BWB Global 2019), Awak Kuier (Dallas Wings; Finland; BWB Europe 2016 and 2018 and BWB Global 2017), Dario Saric (Suns; Croatia; BWB Europe 2010) and Jonas Valanciunas (New Orleans Pelicans; Lithuania; BWB Europe 2008).
The NBA and FIBA have hosted 63 BWB camps in 30 countries since the program's launch in 2001. BWB has reached more than 3,700 participants from 133 countries and territories, with 96 former campers drafted into the NBA and WNBA or signed as free agents. The first-ever Basketball Without Borders camp took place in Europe in July 2001. Vlade Divac (Serbia) and Toni Kukoc (Croatia), together with former teammates from the Yugoslavia Men's National Team, reunited to work with 50 children from Bosnia and Herzegovina, Croatia, the Former Yugoslav Republic of Macedonia, Slovenia and Serbia and Montenegro at La Ghirada in Treviso, Italy.
Atlanta Hawks forward Danilo Gallinari and participant of BWB Europe 2003 said: "Basketball Without Borders will always have a special significance for me. As a young camper back in 2003, I had dreams of playing in the NBA, and my experience at BWB enabled me to focus even more on my goal. It will be great to speak to the campers about my own experiences in the hope that one day they can stand in my shoes."
NBA Europe and Middle East Managing Director Ralph Rivera said: "We are incredibly proud of the impact that Basketball Without Borders has had on aspiring European players since the first BWB camp here in Italy more than 20 years ago. We are excited to return to Italy to host the first BWB Europe camp in three years and work with FIBA and FIP to provide these young players with unforgettable experiences as they take the next step in their basketball journeys."
FIBA National Federations & Sport Director Zoran Radovic said: "We are very happy to be returning to Italy with Basketball Without Borders Europe in 2022, especially as the first edition of BWB was hosted there back in 2001. With such a long-standing relationship with the Italian Basketball Federation, who also are co-hosts of the FIBA EuroBasket 2022 this year, we look forward once again to teaming up with them and the NBA to deliver a high-quality program to the future stars of Europe."
Italian Basketball Federation (FIP) President Giovanni Petrucci said: "2022 is the year of basketball. The restart of the championships and all of our federal events after two years of the pandemic is the signal that our movement has restarted its activities at full speed. In our calendar, the huge event on the horizon is FIBA EuroBasket 2022 hosted in Milan in September. Basketball Without Borders will be staged in the same city and will be an event dedicated to excellence in youth basketball at a European level. The NBA, FIBA, and the FIP have worked together towards the success of an event that showcases the brightest future of our sport. I thank the FIP Regional Committee for supporting the organization of BWB, and I hope all participants take full advantage of this experience."
Click here to view the complete list of players participating in BWB Europe 2022.
NIKE, a global partner of BWB since 2002, will outfit the campers and coaches with NIKE apparel and footwear.
The upcoming camp can be followed on Facebook at NBA Italia, Twitter @NBAItalia, Instagram @NBAEurope and on YouTube at NBA Europe, and use the hashtag #BWBEurope.