Powcast Sports is not your average sports media organization. We create sports content in a fun, creative, innovative and engaging way. We provide digital and social media marketing strategies mainly for the sports market.
Hello! My name is Pow Salud.  Since 2010, I have been blogging and attending sports events. At the same time, I also work in the corporate world doing business development and helping companies grow their businesses with our Business Process and Digital Marketing Solutions.
Today, we would like to offer you our expertise in both areas.
Here's my Linkedin profile: https://www.linkedin.com/in/paulsalud/
YOU DON'T NEED A LOCAL TV COVERAGE, A SOCIAL MEDIA LIVE STREAM IS ENOUGH!
With Social Media live streaming you don't have to wait for a time slot, you can watch the video anytime, track how many people are tuned in plus engage with the fans and get real-time feedback. Television can't do that!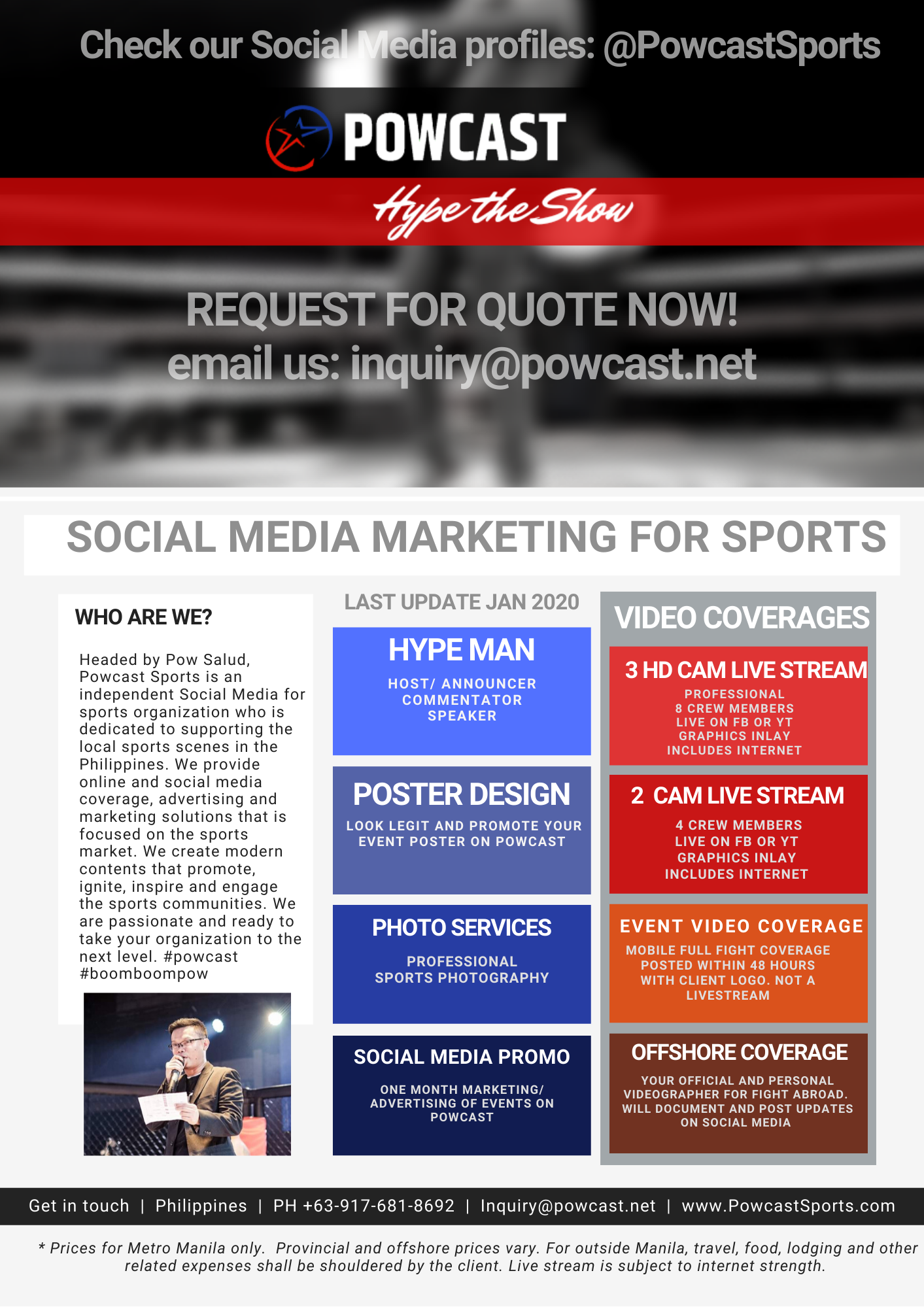 Social Media Marketing for sports
Powcast has huge followings on Social Media and is also affiliated with other sports social media pages and accounts, ensuring wider reach for your events. 
Love for Sports and Innovation
From creating content and strategies, our team is also capable of providing a one-stop solution to make your events, products or solutions banging in the sports market.

Digital Marketing Strategy
Having a website or Facebook posts may be the first step but effectively utilizing these resources is another story. Get all the attention you need online by utilizing multiple digital channels properly and effectively for a fraction of a cost compared to other vendors.
Social Media
Everyone is on Social Media, you should be, too! From Facebook, Twitter, Instagram, and Youtube, we will show you how to expertly utilize these amazing tools and create social content that stands out to create meaningful and engaging content for your community.
Videos and Live Stream
Everyone is watching videos but not on TV. Everyone is now glued to their mobile devices. People love to watch and be entertained and video is the main tool nowadays to make it happen. We share or produce video content that your viewers will like, engage and share with their friends.

Write-Ups and Other contents
Blogging and writing are at the core of what we do every day. So far we have written 20,000 original content and we are not stopping anytime soon. We can create effective write-ups, sponsored articles, and press releases.
Sales and Marketing Partner
Aside from creating the best products, solutions or events, your main goal is for someone to notice and buy them. We help you broaden your reach by utilizing our digital and social networks connecting you to a targeted sports audience.
Podcasting
The best way to get the message across is to tell a story. We can produce branded podcasts and can talk about your brand or events. A podcast allows you to not only get a message across but provides you with a platform to get deeper and beyond the usual conversation. Get personal with your audience.
Talent
You read that right. Pow Salud likes to get a piece of the action, too. Pow can host and commentate sports-related events. No to weddings and birthdays, for now! 😛
For Advertisements, Coverage and, Sponsorships, feel free to reach out to us anytime!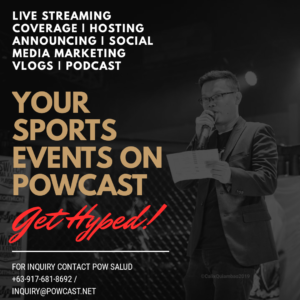 Ready to talk?
Call us: +63-917-681-8692
Email us at [email protected]

For Press releases send email to [email protected]