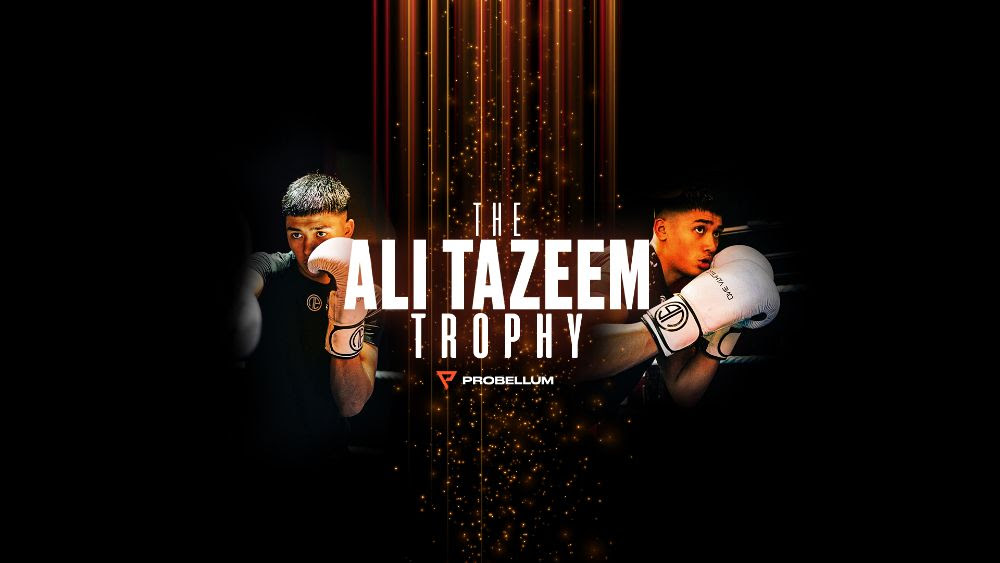 LONDON, OCTOBER 21 – The memory of the outstanding British boxing prospect Ali Tazeem will live on in a new award that carries his name.
Tazeem, 18, was about to begin an exciting journey as a professional fighter when, in April, he tragically lost his life in a road accident.
The hugely popular teenager from Wolverhampton had already been dubbed the 'New Amir Khan' and was set to take the pro ranks by storm before his untimely passing, which left his family and friends devastated and the boxing community shaken.
But Probellum, who had signed Tazeem on a promotional contract just weeks earlier, can today announce the creation of the Ali Tazeem Trophy, an annual award that will be presented to the winner of a carefully chosen domestic fight between two young fighters that embody the skills, dedication and values of Tazeem.
The trophy will be presented for the first time to the winner of one of British boxing's most highly anticipated fights when super bantamweight stars Jack Bateson and Shabaz Masoud, who both knew Ali, clash at Probellum Sheffield, on November 11, in a British title eliminator.
Sam Jones, Head of Talent Relations at Probellum, said: "There is not a day that goes by when I do not think of Ali. He was a brilliantly talented and wonderful young man, with his whole life, both inside and outside of ring, ahead of him.
"Ali has an amazing family and Probellum wanted to make sure this special fighter is always at the forefront of our minds, and so we have created the Ali Tazeem Trophy.
"Even as an amateur, Ali represented excellence, excitement, skills and so much potential; he was one of this country's most outstanding prospects, and we want this Trophy to be awarded to rising UK stars who do something extra special.
"The winner of Jack vs Shabaz on November 11 will do just that. They are two of the country's best young fighters, they are putting it all on the line and this will be a breakout night for one of them. I can't think of a better fight, anywhere in the UK, for the inaugural Ali Tazeem Trophy to be presented."
Toheed Tazeem, Ali's father, said: "I'm lost for words, this means the world to me and my family. Thank-you to Sam, and Probellum, for keeping my son's legacy alive."