BACK AND BETTER THAN EVER: LEGENDARY PKA WORLDWIDE CONTINUES HUNT FOR THE SPORT'S GREATEST "STRIKERS" AS THEY HIT REDLANDS, CALIFORNIA ON SATURDAY, SEPTEMBER 24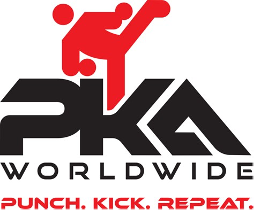 REDLANDS, CA. – September 14, 2022 – On Saturday, September 24, PKA WORLDWIDE, the legendary pioneers of American-style kickboxing, will be hosting the third event on their hunt for the greatest strikers in the sport, as they hold a one-day qualifying tryout in Redlands, California to find the next generation of full-contact striking stars to join their growing promotional roster of professional kickboxers.
The Redlands qualifiers will take place at the Self Made Training Facility (3180 Industrial Park Dr.; Redlands, CA 92374) and is the third official event in a worldwide series that aims to bring the sport's best to its biggest stage, the PKA Striking Cage. The event will feature PKA WORLDWIDE CEO Joe Corley, original PKA World Champion Jeff Smith, multiple time PKA World Champion and PKA WORLDWIDE Global Director of Fighter Development Rick "The Jet" Roufus and legendary Master Dan "Bam Bam" Stell as honorary judges.
Martial artists of all styles and disciplines, from karate, Tae Kwon do and kung fu, to kickboxing and MMA, are welcome to try out. At least one fighter will be selected in each weight division at each qualifying event across the country, with a goal of ending­­­­­­ up with eight strikers in each division who will fight in the reborn PKA WORLDWIDE's first international broadcast and compete for a chance to receive a promotional contract.
"The popularity of MMA and other combat sports has convinced us that now is the perfect time for PKA-style American Kickboxing to be reborn," said Joe Corley. "We are going across the country and the world, looking for the new generation of kickboxing stars to captivate audiences with the flying feet and pulverizing fists that made PKA the number one kickboxing association in the world for over a decade."
Once a staple of televised combat sports in the 1970's, 80's and 90's, and a precursor to today's modern hybrid styles of fighting, PKA and its' CEO Corley are often credited as one of the founding fathers of modern-day MMA. Corley first introduced professional kickboxing to the public nearly 50 years ago with an "Americanized" style in which opponents are allowed to hit each other with punches and kicks above the waist, however, elbows, knees, clinch fighting, and grappling are all forbidden.
Launched in 1974, the PKA went on to garner huge national audiences on ABC, CBS and NBC, and formed long-time broadcast partnerships with cable giants ESPN and SHOWTIME while producing over 1,000 hours of unforgettable televised action.
Now, PKA WORLDWIDE is back and better than ever and on a mission to find the world's most dangerous strikers.
Interested strikers can register online at PKAWorldwide.com before Wednesday, September 21, 2022. If you have any questions, please contact Dan Stell at 707.372.0882.
For more information please visit PKAWorldwide.com, follow on Facebook or social
media @PKA_Worldwide (Twitter and Instagram).